"I am fearful this will affect the Arctic in ways that we have not seen yet" — Margot Wallström, Minister of Foreign Affairs of Sweden
Note: I've written this from Tromsø, Norway, where I'm covering the Arctic Frontiers conference. A version of this commentary is also scheduled to be published in the Norwegian newspaper Dagbladet.
On January 18, U.S. climate-monitoring agencies confirmed that 2016 was the warmest year in records dating back to 1880. And that made it a climatic trifecta:
"Remarkably, this is the third consecutive year a new global annual temperature record has been set," the analysis from the National Oceanic and Atmospheric Administration stated.
Just two days later, Donald Trump became the 45th President of the United States. As he placed his hand on a bible for the swearing-in ceremony, the temperature in Washington, D.C. hovered at 48 degrees. That made it the 4th warmest January inauguration ever.
At the same time that the presidency was changing hands, so was the White House website. A moment before that electronic transition, the Obama White House website still featured volumes of information on climate change. But then in an instant, it was all gone — except for this short policy statement from the new Trump administration:
"For too long, we've been held back by burdensome regulations on our energy industry. President Trump is committed to eliminating harmful and unnecessary policies such as the Climate Action Plan…"
To be fair, it must be said that the Trump team did not have much time to create new content for the site. Even so, they did manage to promote First Lady Melania Trump's modeling career and line of jewelry at QVC — on the new White House website. (After that was publicized by the Washington Post, team Trump also managed to find the time to update the website by removing mention of QVC.)
The one small statement about climate change on the new site did not give much reassurance to those hoping that Trump would have second thoughts about his pledge to pull the United States out of the Paris Climate Agreement. Just as unsettling was the "America First Energy Plan" unveiled on the website. In it, Trump promises that he will vigorously pursue policies to accelerate production of coal, oil, and gas.
Just in case you were wondering, there was not one mention of renewable energy.
All of this played out soon after I arrived in Tromsø to cover the Arctic Frontiers conference, which takes place between Jan. 22 and 27. The theme this year, appropriately enough, is "White Space — Blue Future." I take that to mean something like, "Say goodbye to vast expanses of white sea ice and hello to open water."
Given what happened to Arctic sea ice in 2016, that somewhat cynical way of putting it may not be wholly inappropriate. As the U.S. National Snow and Ice Data Center recently reported: "Throughout the year, a wave of new record lows were set for both daily and monthly extent." In 2016 alone, record low ice extents were set in January, February, April, May, June, October, and November. And this continues a long-term trend.
"What happens in the Arctic doesn't stay in the Arctic," notes Petteri Talaas, Secretary General of the World Meteorological Organization. He is referring to a growing body of science suggesting that shrinking of Arctic sea ice is tied to disruption of normal winter weather patterns in large parts of the Northern Hemisphere.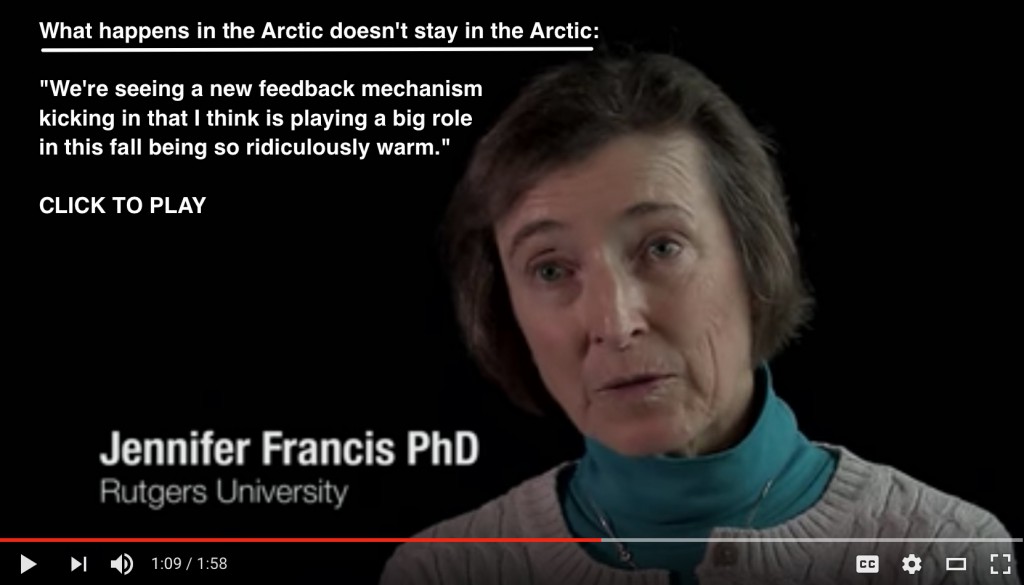 But there's also the "blue future" part of the Arctic Frontiers conference theme. That refers to tantalizing opportunities opened by shrinking ice. Not the least of these is the potential for expansion of resource extraction. And that, of course, promises a rising of many nations' economic boats. (Not to mention boats generally, thanks to rising sea level.)
In fact, the U.S. Geological Survey estimates that the area north of the Arctic Circle holds 90 billion barrels of undiscovered, technically recoverable oil. Add to that an estimated 1,669 trillion cubic feet of natural gas.
The blue future theme also promises other kinds of rising economic activity, including, of course, increases in shipping, fisheries and tourism.
The lovely Arctic city of Tromsø is quite familiar with the phenomenon of a rising economic tide. Last year, northern Norwegian winter tourism increased by 250 percent in the ten years between 2005 and 2015. This has been driven to a large extent by the desire of tourists to see the Northern Lights. But the Arctic has also been in the news quite frequently in recent years, in part because it has been warming at two to three times the rate of other parts of the world. And with the spotlight shining on the region so intensely, tourists must be noticing.
That surely was the case with the 1,070 passengers who sailed aboard the Crystal Serenity last summer between Seward, Alaska and New York City. On it's journey, it became the largest cruise ship ever to navigate the fabled Northwest Passage. The nine-deck, 68,000-ton vessel was able to thread its way through narrow, shallow channels, thanks in no small measure to an almost total lack of sea ice.
Of course the conditions were quite different for Roald Amundsen and the crew of his little boat Gjoa in 1905. On their historic journey through the Northwest Passage, they spent two weeks adrift in the Simpson Strait. It was a testament to Amundsen's skill, tenacity, and to some luck too, that they avoided being crushed by more copious polar ice.
As 2017 unfolds, we are now beginning to ply the far more treacherous waters of the age of Trump. Where might we wind up?
"I am fearful this will affect the Arctic in ways that we have not seen yet," said Margot Wallström, Minister of Foreign Affairs of Sweden at the opening session of the Arctic Frontiers conference today.
But it must be said that even if President Trump did an about face and devoted himself to taming climate change as strenuously as Obama did, the Arctic would continue to warm anyway. That's because the greenhouse gases we've already added to the atmosphere will continue to warm the climate for many decades to come. And that requires us to think about adapting to change, not just limiting it.
For Mark Serreze, director of the National Snow and Ice Data Center, the inevitable changes themselves are not the biggest worry. "There always is change," he says. "It is the rapidity of the change that is of concern." That makes adapting even more challenging.
The age of Trump "is a dangerous time," he continues. "That's because at the very time that the Arctic, and the climate overall, is rapidly changing, we have an administration that is wanting to stick its head in the sand. This couldn't have come at a worst time."
Too bad the content creators for the new White House website haven't gotten that message.