A strange new paper reports "abnormal" brain activity in 10 patients with electrohypersensitivity (EHS) – a controversial condition allegedly triggered by electromagnetic fields from devices such as phones and power-lines.
But the methods used in this study were very odd.
According to the authors, Gunnar Heuser and Sylvia A. Heuser, the ten patients all suffered from symptoms such as
Headaches, impairment of cognitive function, tremors, weakness, and others. Multi-system complaints were triggered by exposure to cell phones, cell phone towers, smart meters, wi-fi, and other sources
To investigate a possible brain basis of the EHS, the patients had resting state fMRI scanning. Heuser and Heuser say that "all ten patients had abnormal functional MRI brain scans", but I'm not convinced.
The images in the paper appear to show the functional connectivity of the default mode network (DMN) for each patient. The images supposedly reveal abnormal activity, but no statistics seems to have been used to verify this – someone has just decided that the blobs are too big:
This looks like a perfectly normal DMN to me.
Very few details are given of the fMRI scanning protocol or the data analysis pipeline. In fact, it seems that Heuser and Heuser simply sent their patients to be scanned at a commercial facility (MICSC) and then received a report like this: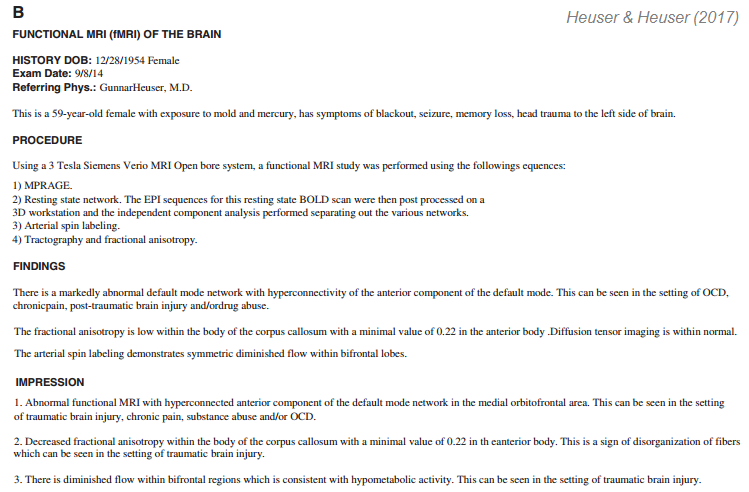 To evaluate the claims in this report (and this paper), we'd need to know which statistical tests were used; who was in the control group, and how well they matched the patients; whether head movement was accounted for, and many other factors.
What was the point of all this scanning? Heuser and Heuser say that their motive for the study was to "document objective abnormalities in these patients who had often been labeled as psychiatric cases." However, the presence of resting state fMRI abnormalities doesn't stop a disorder being classed as psychiatric. There are dozens of studies, by psychiatrists, looking at resting state abnormalities in psychiatric disorders from depression to insomnia to PTSD.
I also have ethical qualms about this paper. For one thing, it was all paid for by the patients themselves: "Since insurance coverage is not yet available for fMRI, patients had to cover the cost of the whole evaluation." What benefit did they get for their money?
Speaking of money, Heuser and Heuser state that they have no conflicts of interest relating to this paper. But first author Dr. Gunnar Heuser has a website called EMF DOC, where you can book consultations with him (with the help of PayPal) if you suspect that you've got electrosensitivity. So Heuser has a financial interest in the concept of EHS, and I think this should have been declared in the paper.
I'm not impressed by what MICSC are doing, either: telling people there's something wrong with their brain, apparently without any scientific basis.