The U.S. defense agency that specializes in "out-there" science and technology endeavors is on a quest to bridge the gap between brain and computer.
The Defense Advanced Research Projects Agency (DARPA) recently awarded $65 million to six different teams that will begin developing neural implants that convert neural activity into 1s and 0s of digital code. It's all part of the agency's Neural Engineering System Design program that was announced by the Obama Administration in January 2016.
Teams will initially focus their work on the human sensory cortex, aiming to both monitor and modulate activity in specified parts of the brain. DARPA wants the final system to be capable of gathering information from at least 1 million neurons, and stimulating at least 100,000 neurons in real-time. One million neurons is just a sliver of the estimated 86 billion total neurons in the brain. But if researchers demonstrate the technology works on a tiny portion of the brain, it's a crucial step toward larger array of therapies and applications.
It's a formidable challenge. Ideally, DARPA would like to see these capabilities fit into a device that's 1 cubic centimeter. Teams will also need to design new algorithms and mathematical models that can translate signals from the brain into useful information. They also need to send signals to the brain to activate targeted neurons.
Here's a glimpse at what the various teams will be working on:
Brown University: With a focus on decoding the neural processing of speech, a team led Arto Nurmikko has proposed implanting a network of up to 100,000 untethered, submilimeter "neurograin" sensors into the brain. A separate electronic patch worn on the head would power the sensors and relay signals from neurons.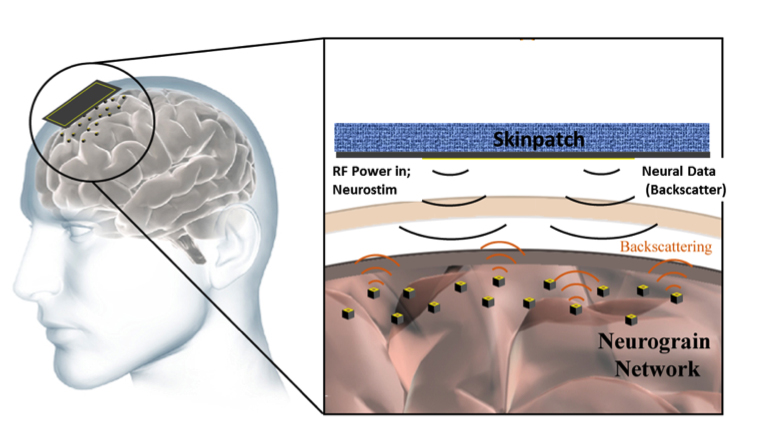 Columbia University: Ken Shepard and his team proposed layering a flexible, metal-oxide semiconductor over the visual cortex. A relay station worn on the head would serve as the source of power, and transmit information from the brain to a computer.
Foundation Voir et Entedre: Jose-Alain Sahel and Serge Picaud will focus on vision. They'll rely on optogenetics (genetically engineering cells to be sensitive to light) to create a communication link between neurons in the visual cortex and a camera-based, high definition artificial retina worn over the eyes.
Paradromics Inc.: Matthew Angle wants to build a brain interface using an array of penetrating, micro-wire electrodes that record and stimulate targeted neurons. His team will focus on building a device that could potentially restore speech.
University of California, Berkeley: According to DARPA, Ehud Isacoff aims to "develop a novel 'light field' holographic microscope that can detect and modulate the activity of up to 1 million neurons in the cerebral cortex." Their device could potentially restore vision, or serve as a brain-computer interface to control an artificial limb.
Again, these projects are all in their infancy and are far from human trials. Of course, as they proceed through the program, teams will work with the Federal Drug Administration to assess the long-term safety implications of any implantable neural device.
While there's a long road ahead, the potential applications and ethics of this emerging technology are indeed tantalizing. Brain-computer interfaces would deepen our understanding of brain function, and could offer novel therapies for post-traumatic stress disorder or depression. These devices could yield a new approach to controlling prosthetic limbs. Could we someday amplify the five senses? Type text messages with our brains? Record our dreams and watch them in the morning?
Given all the cyber security threats around the world, are we ready to give hackers a potentially direct link to our brains? How would Google or Facebook monetize a technology like this?
Fortunately, "neurograins" won't be available for early tech adopters anytime soon, offering us ample time to ponder these questions—in brains disconnected from the grid.